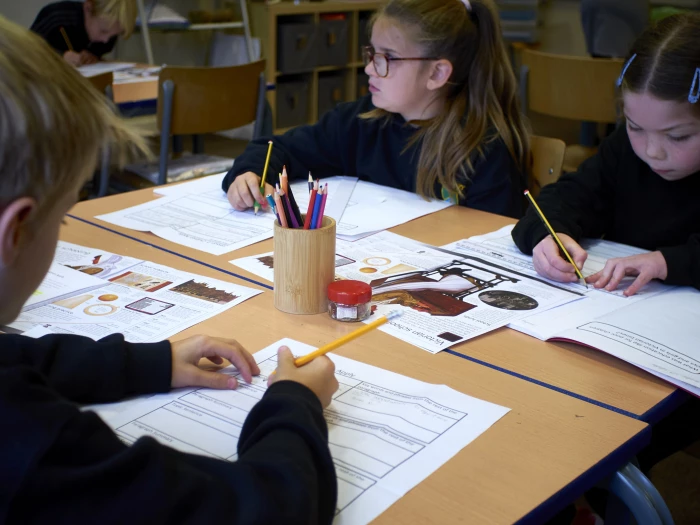 Wybunbury Delves teaches Phonics and Early Reading using the Read Write Inc scheme.
Who Is Read Write Inc Phonics for?
Phonics is for children in Reception, Y1 and Y2 who are learning to read. Phonics is also for children in KS2 who haven't met the KS1 reading expectations. Each half-term, we assess and group our children based on their stage of reading not age of reading. This means all children practise reading at the right level. Our children at Wybunbury at then grouped and taught according to their Phonic and reading knowledge and confidence.
How Read Write Inc. works?
We teach sounds, children practise reading and spelling words containing these sounds, then we give children decodable books containing sounds and words they can read. Children take home 'book bag books' which match their phonic ability. Children are expected to read their phonics book three times. On each reading, children's fluency increases and the more they can focus on what the story is about. The first read is for accuracy, the second read for fluency and the third read for comprehension. Alongside this we read stories to children stories they cannot yet read for themselves. Our aim is for children to finish the RWI Phonics programme quickly so they can start reading these books for themselves. Children also learn to spell the words they have been reading and develop their ideas into sentences so that they can write about the storybooks they read.
Phonics is the method of teaching reading through the identification of sounds. All words are made up of individual sounds. These sounds are blended together to form words. e.g. in 'mat' we have the sounds 'm', 'a', 't', ship – 'sh', 'i', 'p'. We use 44 sounds to make all the words in the English language. This means we've got a problem. We've got 44 sounds and only 26 letters. The 26 letters work singly, in pairs and sometimes in threes to represent one sound. We have to group letters together to write some sounds e.g. 'igh', 'air'. In English we have more than 150 ways to represent 44 sounds, using the 26 letters in the alphabet. This makes our language one of the most complex in the world!
Using RWI, we make learning to read easy for children because we start by teaching them just one way of reading and writing every sound. Children need to know sounds – not letter names – to read words.