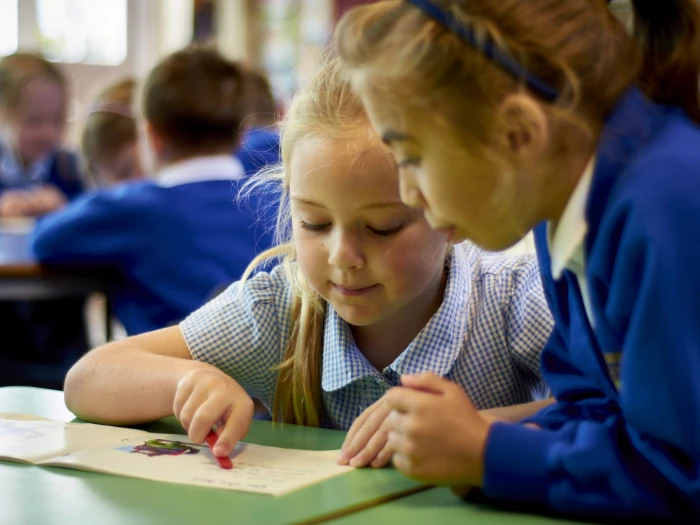 At Wybunbury Delves, we actively promote a love of reading and reading for pleasure is at the heart of our reading policy. Our learning is holistically planned around quality texts. We aim to enable our children to read fluently, accurately and with understanding and confidence. We aim to foster an interest in words and their meanings and to gain an appreciation of books from a variety of genres. We encourage our children to read and to enjoy looking at a variety of fiction and non-fiction books, and to take their books home to share with their parents as this supports their reading progress in school.
What our children say about reading at Wybunbury Delves
Throughout the year, events are planned to promote reading for pleasure in the school community. These events include dress up days linked to authors, activities linked to World Book Day is celebrated annually, where both children and staff dress up as book characters, visits to Nantwich library, author visits and Summer Reading Challenge 6 book award. Years Reception to Year 2 invite parents and grandparents in as 'Mystery Readers' where they share a book to the class.
We asked the children from Reception to Year 6 'Who is your favourite author?' and the results are in. These authors have been added to our reading area displays.
Reception's favourite author is Julia Donaldson.
Year 1's favourite authors are Oliver Jeffers, Roger Hargreaves, Julia Donaldson, Roald Dahl and Anthony Browne.
Year 2's favourite authors are Julia Donaldson, Kes Grey, Judith Kerr, Simon Bartman and Oliver Jeffers.
Year 3's favourite authors are Roald Dahl, Enid Blyton, Liz Pichon, David Walliams and Daisy Meadows.
Year 4's favourite authors are JK Rowling, Liz Pichon, Jacqueline Wilson, Jeff Kinney and Roald Dahl.
Year 5's favourite authors are Tom Fletcher, Phillip Pullman, David Walliams, Dick King Smith and Terry Deary.
Year 6's favourite authors are JK Rowling, Rachel Renee Russell, Phillip Pullman, David Walliams and Michael Morpurgo.
Click here to get involved with the Blue Peter reading challenge and get yourself a Blue Peter badge!